Rant and Rave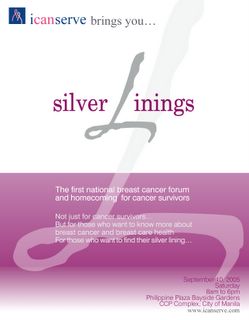 Last Sunday, i joined my sister at the ICanServe fundraiser in Shangri-la Hotel. It was a whole day affair and it must have been quite a good diversion for the wan-su girls (Bibet's loving term for One-suso/one-breasted. Many of the breast ca survivors have had mastectomy).

It was a celebration of life, love, thanksgiving, and remembering that, cancer or not, we have to learn to value our time and our lives. I was able to get a free consultation with a doctor, and asked her to show me how to do a self-breast exam.

Celebs and regular women shared their stories, their triumphs, fears, and above all, hope.

One of the convention highlights was survivors giving testimonies. The hall was full, so I went to view her testimony at the first floor. When I got down there, Maritoni F. was still talking, there was not a dry eye in the room.

Next came my sister's badminton friend, I had just met her and quite naturally, interested in what she had to share.

Anyone who can relate to a life where you make enough money, but little extras would be a luxury, had his or her attention to the 2 screens. Every eye was close to shedding tears, as she painfully related how her kids were scared, and confused when sometime after her chemotherapy, they found some new cells...

Then some woman goes up to the TV monitors and killed the sound. RUDENESS!!!

There must have been 40 people watching and listening. Naturally, I got curious and went to see why someone switched off the audio. Turns out, some pashmeina-wearing-political-has-been-of-a-joke was getting someone to shoot a video footage/interview.

What. The. Fuck.

What message could this biotch possibly give to anybody that could be more interesting than this remarkable person on screen, who is a living, breathing example of what a person should be? A REAL, DECENT, HONEST, STRONG PERSON EMBRACING LIFE! Butting heads with a bad bad thing called cancer. Kicking the ass of despair.

Would some goddamned greedy, opportunistic, famewhore who's capitalizing on this fundraiser have a message so compelling that it should supersede the speaker in its importance?

That's Loren legarda for you everyone. Your typical effing political lame-duck who does not know when to call it quits. If she had a story, why was she not asked to speak along with the other Celebs? She was just there, showing her face, she stayed for what? 45 minutes? PUH-LEEEEZE!!!
Whew...okay, on a more positive note, you can make a difference too. see calendar below.

___________________________________________________________________
The calendar sells at Php100 apiece. Every cent raised through the selling of this calendar will
be for the
I Can Serve Foundation
.
Photos by Nelz Agustin and Norman Gludovatz.
Order Here.